PAST EXHIBITION

BRANISLAV JANKIĆ — LETTER TO MY MOTHER

2019-05-26 – 2019-06-15
PAST EXHIBITION
BRANISLAV JANKIĆ — LETTER TO MY MOTHER
2019-05-26 – 2019-06-15
Letter to My Mother: 11 days, 1200 miles by ground, 7518 miles by air; 6 states, 40 women and their children. Mila, Tabatha, Lisa, Chelsey, Ellie, Jo, Lenor, Melissa, Jade, Amanda, Alexis, Britanni, Elizabeth, Polly, Terry, Melissa, Debbie, Claudia, Andrea, Holly, Chris, Patricia, Susan, Tiffany, Maria, Anna, Rachel, Nikki, Amanda, Elizabeth, Serenity, Claire, Lisa, Tamerica, Adrianne, Nangie, Kate, and Valene.
Letter to My Mother is a visual and literary body of work created by artist Branislav Jankić that reveals an impactful look into the lives of mothers suffering from addiction in the United States. The project strives to lift the stigma of addiction and create an international support system for those suffering from this disease, particularly mothers.


When the artist's mother, a former prescription drug and alcohol addict, was diagnosed with lung cancer in November 2012, Jankić, who had experienced his own struggles with addiction throughout his teenage years, began writing a letter to his mother expressing his regrets for their dismantled relationship and his misunderstanding of her struggles, hoping to show both love and forgiveness.


On a quest to re-asses and reconcile his relationship with his mother after this painful diagnosis, he set off on a journey to bring to the forefront a narrative that is often left hidden – to produce a dialogue about motherhood and addiction outside of its stereotypically taboo associations. He was hoping to find pieces of his mother amongst other mothers suffering from addiction in the United States, which Jankić considers his home, ultimately creating one large amalgamated portrait of her through their photographs and letters, which were then published into a book, Letter to My Mother.


In the short timeframe that Jankić and his longtime friend and producer Goran Macura had to execute the project, Macura was able to reach out to 40 women across the United States, who were willing to participate in the project. Jankić and Macura traveled all over the country to meet and photograph these brave mothers and their children. By doing this, the experience was not only helpful for Jankić, but also for the contributing mothers and their children, who now had a platform to communicate their feelings through the letters and images.


Jankić's ultimate goal for the project has become raising awareness for addiction as an illness, not a weakness, encouraging people to speak more freely about the disease, and inspiring women and mothers to seek help. In order for a new dialogue around addiction to commence, Branislav shows mothers with addiction in a different light, hoping to change social perception of them.


Coordinator: Monika Jagaciak-Jankić


Branislav Jankić
b. 1983, lives and works in New York (US).
Jankić is an Yugoslavian multidisciplinary artist who works in photography, film, sculpture, and performance. His work has appeared in Interview (RU, DE), GQ (UK), Vogue Homme (Japan), Elle, and Flaunt. Under the tutelage of Gian Paolo Barbieri and others, Jankić draws deeply from his own past as a child of displacement, of addiction, and of rebirth. His award-winning book and documentary, Letter to My Mother (2015) was inspired by his mother's battle with cancer and addiction. His collaboration with Gian Paolo Barbieri, Flowers of My Life (2015), debuted at Milan Fashion Week and has been praised in Vanity Fair (IT), I.D., Women's Wear Daily, and Love Magazine (UK). Jankić holds MFA in Film at the School of the Art Institute of Chicago.


www.branislavjankic.com
www.lettertomymother.us
Notify your friend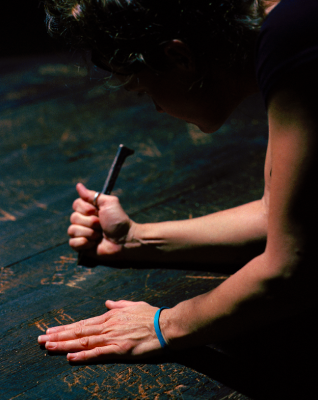 BRANISLAV JANKIĆ — LETTER TO MY MOTHER
2019-05-26 – 2019-06-15
Data provided is used solely to send your friend a message with a link to recommend this page. Your friend's personal data are neither retained nor shared with third parties by the data administrator. Providing data is voluntary.