PAST EXHIBITION

HONZA ZAMOJSKI — WORD WAR FREE

2018-09-21 – 2018-10-27
PAST EXHIBITION
HONZA ZAMOJSKI — WORD WAR FREE
2018-09-21 – 2018-10-27
The exhibition is part of the Warsaw Gallery Weekend 2018
www.warsawgalleryweekend.pl
Woof woof woof.
Poo pee dee poop.
The Poet. The Golem. The Ghost and the book.
Capital. Crap. Crapital Club.
Crapitalism. Big Mac.
Black Thought.
Blue blood. Fake news. Tear drop.
Fake no. Fake nose. Fake sunset. Sunrise.
Free man. Dog dog. Hot god. Surprise.
Cold gold. Don't go!
Tea time, strange stranger.
Orange or orange or anger or danger?


The exhibition will be accompanied by a new Honza Zamojski's book published by a prestigious French publishing house onestar press.
www.onestarpress.com


"Word War Free" is both a historical book and a futuristic science-fiction poetry. It digs up what has been decayed for a long time and describes what awaits around the corner. The timelessness of this book is contemporary, and the freedom of associations is built on a strong foundation of the language grammar.
"Word War Free" is an illustrated dictionary of concepts defining the world in which war is a permanent, psycho-physical state of humankind.
"Word War Free" is an illustrated grammar textbook of a language in which words mean something or nothing or a lot.
"Word War Free" is an illustrated story dedicated to those for whom freedom is a bold caricature of itself.


Honza Zamojski
b. 1981, lives and works in Poznań (PL).


Graduate of the University of Arts in Poznań. Artist, designer, book publisher and curator who draws upon a broad range of media and artistic practice, from illustration and illustrative sculptures to infographics inspired by corporate communications and poetic word games. This variety reflects the spectrum of Zamojski's interests, founded upon a utopian desire to put the world into an order he can make sense of. Honza Zamojski creates narratives that, when considered over time, construct a cohesive, multidimensional realm wrought with Cartesian doubt. His minimalist forms are loaded with meaningful symbols, abstract compositions and figurative representations that make up a visual language governed by its own grammatical rules and formal structure. Elements that may appear disparate at first are united through their simplicity of form, punctuated by a sense of humour and irony.


Honza Zamojski has authored more than a dozen books (including: Love Letter, onestar press, 2017; Four Eggs Theory, self-published, 2015; Fishing with
John, NERO, 2013). He has received grants from the Polish Ministry of Culture and National Heritage and the Visegrad Fund. His works have been shown in solo and group shows in Poland and abroad, at such institutions as: Zachęta — National Gallery of Art (Warsaw), KUMU (Tallinn), Foksal Gallery (Warsaw), CCA FUTURA (Prague), Museum Morsbroich (Leverkusen), Andrew Kreps Gallery (NYC), Frutta (Rome) and OSMOS Address (NYC). He has also presented his original lecture series on "How It's Made" at the Centre Pompidou, MoMA Library and Printed Matter New York.


www.honzazamojski.tumblr.com
Notify your friend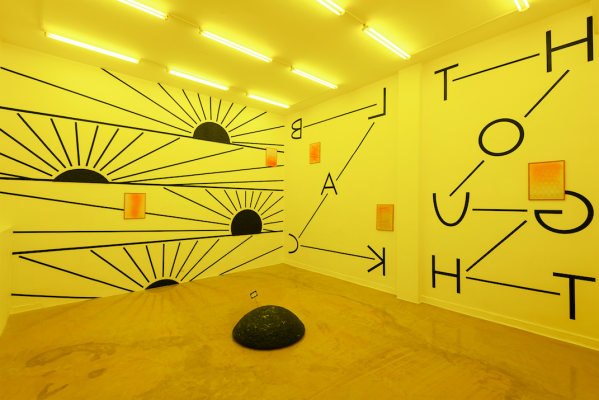 HONZA ZAMOJSKI — WORD WAR FREE
2018-09-21 – 2018-10-27
Data provided is used solely to send your friend a message with a link to recommend this page. Your friend's personal data are neither retained nor shared with third parties by the data administrator. Providing data is voluntary.