PAST EXHIBITION

PRZEMEK PYSZCZEK — FADOM

2019-02-23 – 2019-03-23
PAST EXHIBITION
PRZEMEK PYSZCZEK — FADOM
2019-02-23 – 2019-03-23
FADOM, a communist-era building company, created a building system of prefabricates for the basic structures of inhabitation. In Przemek Pyszczek's practice, FADOM becomes a metaphor for the aesthetics permeating post-communist Poland, its hidden rationale that manages to reconcile the shadow of the past with a consumerist spirit of the new era.
In his works, Pyszczek scrutinizes the collective aesthetic landscape of post-transformation Poland. His geometric, radiant compositions subvert the inexorable binding between form and content: by adopting aesthetics specific to socialist architecture into a different medium – from a block façade painting to an artwork itself – Pyszczek brings to the fore the personal, memorable qualities of the forms he deploys. The visual landscape of a post-transformation state in his practice becomes more of a memoryscape, overwritten with constructed childhood memories, whose tissue are manifold colours: those of primary school corridors, local gymnasiums, overly optimistic children clinics. Simplified forms and vivid colours that once carried ideological overtones, in Pyszczek's works are transformed into their own abstractions, decontextualized and reorganised so as to enable the viewer to indulge themselves in visual nostalgia, both experienced and constructed.


This disconnection is striking, yet not total. The conscious imitation of visual idioms of block architecture and artist blacksmithing of window grates results in a fabrication of ostalgie, a term denoting longing for the communist past of the Eastern Bloc. Through hyperbolization of socialist aesthetics, Pyszczek achieves a sense of shared memory which belongs to no one: a para-sentiment for what might not have been experienced, but remains alluring thanks to its construction – either social or aesthetic, or maybe, as Pyszczek seems to suggest, both.


Przemek Pyszczek
b. 1985, lives and works in Drzeniów (PL).


He obtained his Bachelor of Environmental Design from the University of Manitoba in 2007. Through architecturally inspired sculptures, installations and paintings, Pyszczek's work traces Poland's transition since the fall of the Iron Curtain and also serves as an ongoing journey to rediscover his own past. Pyszczek's work has been exhibited in numerous solo and group exhibitions, most recently presenting solo exhibitions at Plug In ICA, Winnipeg (CA) and Galerie Derouillon, Paris (FR). His past exhibitions include: Forever Never Comes, Museo Archeologico e d'Arte della Maremma, Grosseto (IT); 1989, Belenius, Stockholm (SE); Sandomir, Nicodim Gallery, Los Angeles (US); Muscle Memory, Peres Projects, Berlin (DE); Building Systems, Berthold Pott, Cologne (DE); and Corporalitas, Open Forum, Berlin (DE).


www.przemekpyszczek.com
Notify your friend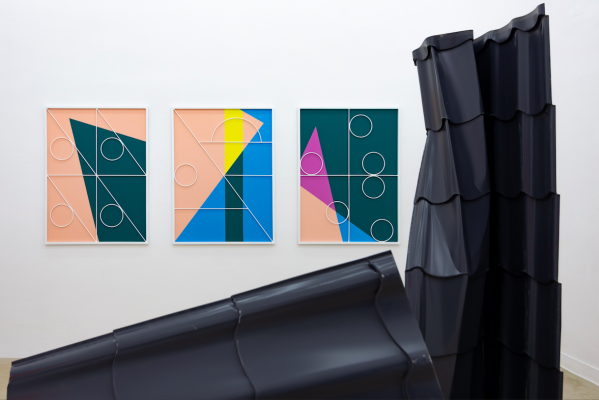 PRZEMEK PYSZCZEK — FADOM
2019-02-23 – 2019-03-23
Data provided is used solely to send your friend a message with a link to recommend this page. Your friend's personal data are neither retained nor shared with third parties by the data administrator. Providing data is voluntary.